REPLICA Bubble Bath Diffuser
Diffusers
Diffuse the relaxing and cocooning atmosphere of a me time in a foaming bath. The Bubble Bath diffuser will envelop your home in a relaxing bubble.

Bubble Bath is an invitation for a me time of pure wellness. It will make you imagine yourself plunging into the bubbles of a hot scented bath, feeling your body relieved of all tensions. It creates a soothing atmosphere as an invitation to self-indulgence.

The Bubble Bath fragrance was created by renowned perfumer Violaine Colas.
When using the diffuser you can smell the Soap Bubbles and Coconut Milk accords that capture the sensation of plunging in a hot foaming. You can also notice Rose Superessence and White Musks that recreate the cocooning sensation of wrapping yourself into a thick towel.
Atmosphere
Soothing
Sensations
Fresh
Clean
Cocooning
Relaxing
Peaceful
Key notes
Soap Bubbles note
Rose
White Musks
Coconut Milk
Season
Spring
Ideal room
Bathroom
Bedroom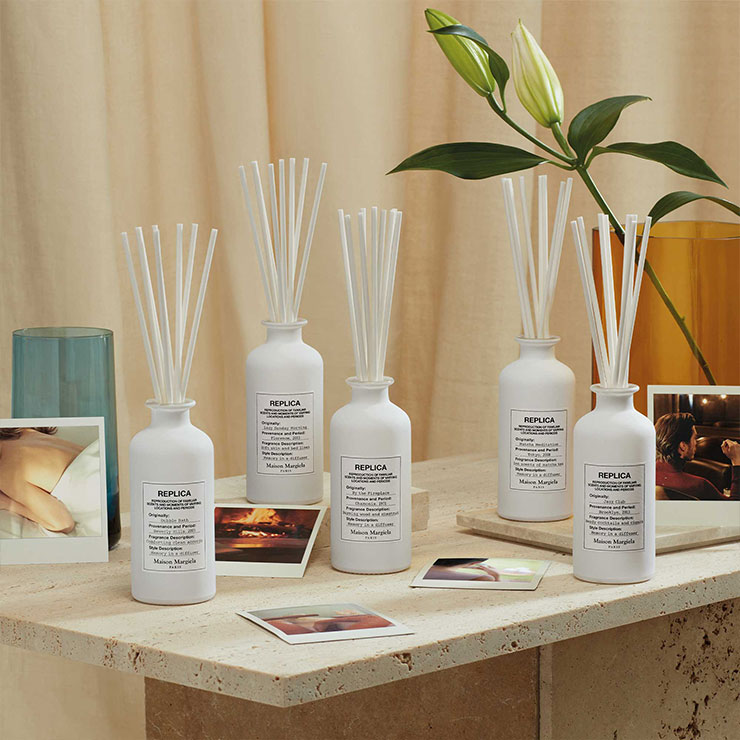 The only diffusers that release scents your memories are made of, and recall forgotten sensations and emotions to create memorable atmospheres.
OLFACTIVE EXPERTISE
- Scents created by renowned perfumers
- Same luxurious fragrant ingredients as for the Eau de Toilette, chosen for their ability to recreate specific sensations
- Reviewed balance of ingredients to guarantee the same olfactory result as for the Eau de Toilette
THE SCENT DIFFUSION
- Continuous and long diffusion of scent: The diffusion of the scent is continuous during 4 months with no action required.
- Immediate diffusion of scent: the scent is immediately released
- Wide diffusion of scent: the diffusion of the scent is wide, thus the REPLICA diffusers are perfect to perfume large rooms
- Possibility to adjust the intensity of diffusion: The intensity of the diffusion can be adjusted by modifying the number of sticks: the more sticks you have, the more intense will be the diffusion
DIFFUSERS SET UP - Remove the cap and insert the sticks in the diffuser
- Let the sticks soak in the perfumed concentrate for 5 to 6 hours
- Then place them turn them over to begin diffusing the fragrance
DIFFUSERS MAINTENANCE - Diffusers offer a continuous diffusion with minimal care
- It is possible to turn over the sticks to reactivate the fragrance diffusion, either on demand or on a regular basis according to your preferences
- It is possible to adjust the intensity of diffusion by removing or adding sticks
1-(1,2,3,4,5,6,7,8-OCTAHYDRO-2,3,8,8-TETRAMETHYL-2-NAPHTHALENYL)ETHANONE,3,7-DIMETHYL-1,6-NONADIEN-3-OL, BENZYL SALICYLATE,DL-CITRONELLOL, 6,7-DIHYDRO-1,1,2,3,3-PENTAMETHYL-4(5H)-INDANONE.

Due to the possibility of modifications, we recommend checking the product's ingredient list directly on the container.